The Epic Story of Ramayana
If you ever visited Bali, you may familiar with Kecak Dance that tells about Ramayana story. Ramayana tells a story of Sang Rama who ruled in the Kingdom of Kosala, in the north of Gangga River, with Ayodhya as its capital city. Ramayana begins with the story of King Dasarata which has three queens, namely: Kosalya, Kekayi, and Sumitra. Rama was born from Dewi Kosalya, Bharata was born from Dewi Kekayi, and twin sons named Lakshmana and Saturgna was born from Dewi Sumitra. The four princes are very handsome and skillful in using a weapon.
Photo by: gooftimenation.com
One day, Rsi Wiswamitra asked Rama to protect a hermitage in the middle of the forest from giant disturbance. After negotiating with King Dasarata, Rsi Wiswamitra and Sang Rama went to the middle of the forest accompanied by Sang Lakshmana. During his journey, Sang Rama and Lakshmana were given spiritual science from Rsi Wiswamitra. They also never stop to kill the giants who disturb Rsi's ceremonies. When they passed Mithila, Rama was joined a contest held by King Janaka. Rama was won the contest and had a privilege to marry Dewi Sinta, a daughter of King Janaka. With Dewi Sinta as Rama's wife, Rama and Lakshmana back to Ayodhya.
Photo by: yoga-asthagana.net
King Dasarata who is old, want to give the throne to Rama. With a request of Dewi Kekayi, the King is unwilling to give the throne to Bharata while Rama had to leave the kingdom for 14 years. Actually, Bharata wanted Rama to be the King, but Rama refused and wanted to live in the forest with his wife and Lakshmana. Finally Bharata ruled the Kingdom of Kosala on behalf of Rama.
When Rama Lived in the Jungle
Photo by: dollsofinda.com
During his exile in the forest, Rama and Lakshmana meet with various giants, including Surpanaka. Since Surpanaka is passionate with Rama and Lakshmana, his nose is wounded by Lakshmana's sword. Then, Surpanaka complained it to his brother, Rahwana, that he was attacked. Rahwana became angry and intended to take revenge. He headed to Rama and Lakshmana then with a trick, he kidnapped Sinta, the wife of Sang Rama. In his kidnapping attempt, Jatayu, a mystical bird was tried to help but Rahwan was cut its wing that made Jatayu fell and dead.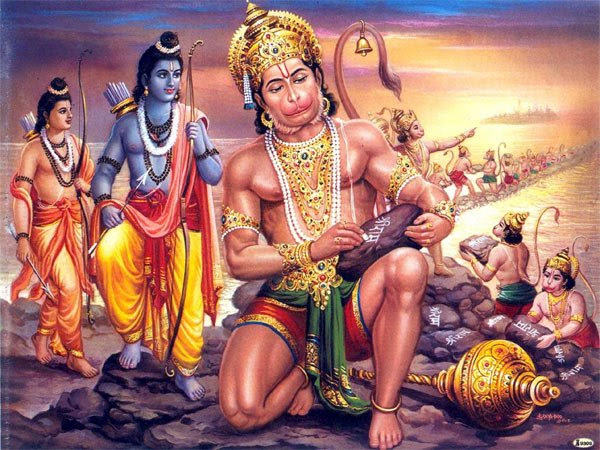 Photo by: ancient-origins.net
Rama who knew this was looking for Rhawana to the kingdom of Alengka on the guidance of Jatayu before its death. On his way, he met with a mystical red monkey, Sugriwa, the King of Kiskindha. With the help of the Rama, Sugriwa succeeded in seizing the kingdom from the power of his brother, Subali. To repay Rama's help, Sugriwa allied with Sang Rama to attack Alengka. With a help of mystical white monkey, Hanuman and thousands of wanara (monkeys), they crossed the ocean and attacked Alengka.
Clash between Rama and Rahwana
Photo by: inilahduniakita.com
Rahwana who knew this was sent his allies including his son, Indrajit, to attack Sang Rama. An advice of Wibisana (his brother) was ignored and he was expelled. Then, Wibisana joined with Rama. Indrajit unleashed the weapons of Nagapasa and gained victory, but not for long. He died at the hands of Lakshmana. After his allies and commanders fell one by one, Rahwana came to face Sang Rama and the fight was fierce. With the powerful arrow weapon of Brahm?stra, Rahwana died as a knight.
Photo by: templepurohit.com
After Rahwana died, the throne of Alengka Kingdom was handed over to Wibisana. Sinta returns to Rama after her holiness is tested. Rama, Sinta, and Lakshmana return home to Ayodhya safely and Hanuman decided to serve Rama forever. When he arrived at Ayodhya, Bharata greeted them and handed the throne to Sang Rama.
Well, that is a brief story about Ramayana. You may watch Ramaya story in many theater performances during your visit in Bali. One of them is in Uluwatu, where it is well-known with its Kecak dance and held on the edge of cliff with a breathtaking view. We hope you've found this post useful! Do share with your family and friends and your holiday snaps, stories and videos with us. Follow us on Facebook and Instagram and tag us for a chance to be featured!