Set along Seminyak's most prime location, Jackson Lily's has opened its doors to provide a mecca for the gourmand and those who just crave fresh and delicious food that is unlike any other. With delectable selections featuring innovative Asian cuisine, Jackson Lily's is the brainchild of Master Chef and culinary icon, Dean Keddell, the founder of both Jackson Lily's and Ginger Moon. The restaurant is housed in a magnificent building which was rebuilt to meet Dean Keddell's exacting standards – it is a vast space, a cathedral in which to entertain and to be entertained by exciting, novel flavours and compelling artful presentation.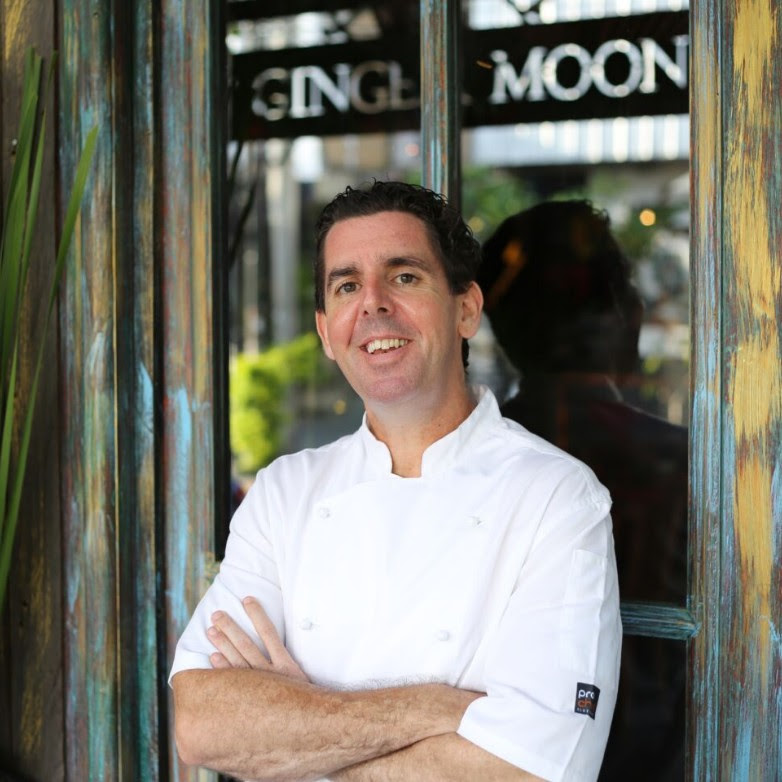 Guests to Jackson Lily's will dine in an expansive space created to bring people and flavours together. The open kitchen, lavish pastry display, and long, welcoming bar blend beautifully to create a stunning first impression. Floor to ceiling glass windows give a sense of openness and at night, this spectacular venue sparkles brightly from afar with warm lighting that beckons. Upstairs, you'll find a breezy dining room and a spacious all-weather balcony; perfect for early mornings, sunsets and evenings dining under the stars.
The menu at Jackson Lily's is authentically unique – each carefully curated and beautifully presented dish showcases the diversity of cultures and cuisines from all over Bali and Asia. It is a beautiful storytelling through flavours, and the entire menu at Jackson Lily's tells of the places Dean has travelled and the people he has met along the way.
Dean's vision has expanded the Ginger Moon concept of excellent Asian home cooking, and carried it in a diverse and thrilling direction, without sacrificing the taste-homage to the ancestors. Dean Keddell said, "When you dine, it should reflect on where you are in the world. The menu at Jackson Lily's reflects this and pushes the diner to expand their palate without going too far into the unknown."
The menu boasts a large selection; there are themed banquet menus designed for two people. "Flavours of Bali" focuses the island's favourites featuring Tempeh Chips with Mango Tamarind Dip, Chicken Rendang Wontons and the Balinese Chicken Curry, Ayam Menyatnyat. "Further East" takes the diner to the Orient, with Spring Rolls, Prawn Wontons, Steamed Pork Belly Buns, Beef Meat Balls in Hoi Sin Orange Sauce and Chinese Broccoli. The "Evy" is more suited for vegetarians; there are Papadums and Mango Tamarind Dip, Dumplings of Water Spinach, Basil, Ricotta, Lemon and Chili, Black Rice Salad and Laksa.

The ala carte menu is a plethora of mouthwatering goodness – first timers wouldn't be able to pick just a few! "Whilst You Ponder" offers Asian chips, Prawn Crackers, Tandoori Chicken Drumsticks, Pophia (fresh spring rolls) and more. There is a whole section for Dumplings and Buns; Steamed, Fried and a section for "Nice Buns" touching on distinct flavours from the Orient, Bali and the Middle East. There are, of course, a wide variety of salads including the Indonesian Gado-Gado, and a mix of Western and Asian. There are pizzas by the metre – ¼, ½ and 1-metre pizza that is perfect for sharing.
Dean himself recommended the Jimbaran Pizza – made with local Balinese spices, prawns, squid, marlin, mozzarella, this pizza is so unique as it uses the same ingredients to make the Indonesian favourite, Cah Kangkung. "This pizza was designed to give you the sensation of sitting by the beach in Jimbaran whilst dining on freshly caught seafood," said Dean. There's the Indian Pizza, the Turkish Pizza and The Chinese Aussie to mention a few. There's the Fire section in the menu for grilled meats and steaks, a section for everything saucy, a section just for Noodles and Rice and of course, drinks.
Signature Cocktails at Jackson Lily's come with uniquely endearing names. The "Hot In Seminyak" is a delicious mix of gin, passion fruit, mint and lime while the Sepeda Ontel, which means Antique Bicycle, brings Rum, Triple Sec, Strawberry, Kemangi and Calamansi together in a tall, refreshing glass. The non-alcoholic juices are perfect, and the desserts are on the verge of being literally mind-blowing.
A family-friendly restaurant that welcomes people of all ages, a space such as Jackson Lily's is a rare find in Seminyak. There is plenty of space for parking, and the menu comes in English, Chinese, Korean and Japanese and a Kids Menu for the little ones. Group bookings and private functions are also available for up to 200 people.
"Nothing is regular here at all," said Dean Keddell. "My ultimate aim is to create everlasting memories with one of life's simplest but greatest pleasures – food; after all, sharing great food with friends, family and loved ones are memories to be treasured."
Three decades of kitchen-captivity have created a superb chef who has a natural ability to instill his expertise into others. His staff have all become experts in their own right; service and quality are second to none and the environment and appointments are magnificent.
Jackson Lily's is open from 11am – 11pm, 6 days a week (closed Tuesdays). In the near future, breakfasts and brunches will follow.
Jackson Lily's
Jalan Raya Seminyak No.2 | Ph: +62 361 474 0121
[email protected] | www.jacksonlilys.com
About Dean Keddell, Founder of Jackson Lily's and Ginger Moon
With 32 years experience in the Hospitality Industry, Dean is a leading hospitality professional with extensive setup and operational experience.
Dean has held the position of Executive Chef as well as General Manager in numerous celebrated establishments around the globe. As owner/ operator of his two latest enterprises, Dean has drawn on his years of experience to bring his unique concepts to life.
Ginger Moon Canteen is a celebration of the foods of Indonesia and Bali in particular, whilst Jackson Lily's is a story of the places Dean has travelled and the people he has met along the way. Dean was born in New Zealand and moved to a small country town Australia with his family at the age of 10.
At age 16 he started an apprenticeship in the local hotel, after completing his 1st year and with the basic skills to get his foot in the door it was off to Melbourne. Since then the urge to discover, explore and create has taken Dean too many interesting places.
Travel has also allowed him to cook for many interesting people such as George Bush, U2, Sinéad O'Connor, Nick Cave, The Monogue sisters and Charlize Theron to name but a few. Dean's style of cooking is fresh, light & truly inspirational.
He strongly believes wherever he is in the world his food should reflect his location, the people around him and the foods they love to eat and share help write his menus. Dean also is a strong advocate for teaching and coxing others to be the best they can be.
He spends a lot of time focused on improving the futures of the people around him by giving them the skills and confidence they need to excel at whatever they put their minds to.
---
About Bali Plus Magazine – Reviews:
Bali's Biggest Little Guide Book
Bali Plus Magazine provides genuine reviews from a fresh perspective based on 100% authentic experiences for the benefit of our readers. Specifics, offers, promotions and other details mentioned in our reviews are accurate at press time. Bali Plus Magazine is one of the oldest tourism and travel magazines on Bali Island. Entering its 21st year in 2017, this monthly pocket-sized and complimentary magazine was created with the aim to provide useful up-to-date Bali related information for travelers and tourists on everything unique and relevant in Bali including Balinese Hindu culture, Bali Activity, Bali Art, Balinese ceremonies, most fashionable Bali events and launches, Travelling in Bali, Dining in Bali, Bali with Children, Shopping in Bali, Spa in Bali, Accommodation in Bali, Party in Bali and the Bali Map. Available in English, and upon request Japanese and Mandarin, this award-winning magazine has a strong online presence and engagement via its website, daily e-newsletters and social media platforms which are updated daily.